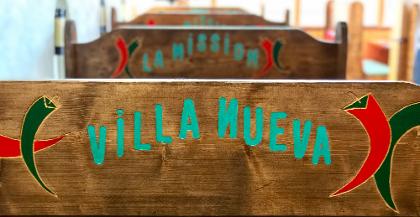 La Mission Villanueva brings to you 40 plus years of Mexican Food Tradition, starting with my mother, Mary Madrid, and the "Sunshine Cafe" in Rocky Ford, Colorado in the late 1950's. Later my father, Joe Masias, founded the "Mission Bell Inn Restaurants" in Colorado Springs.
The Mission Restaurants are built on a "Tamale Foundation, one tamale at a time!" Our food is homemade and handmade, the old fashioned way, from scratch using tried and true family recipes and methods. WE SERVE OUR FOOD FRESH, RIGHT WHEN YOU ORDER IT.
Our SPECIALTY IS GREEN CHILI. We cook Green Chili for you like we cook it for our family the homestyle way, using fire roasted chili that is grown in the Arkansas Valley and served either MILD, MEDIUM or HOT according to your taste buds.
Our mission is to serve delicious Mexican/American Food in a clean, friendly, pleasant and SERVICE DRIVEN dining experience.
Please feel free to let us know how we are doing!